Representatives of the Government of Herzegovina-Neretva County visited our center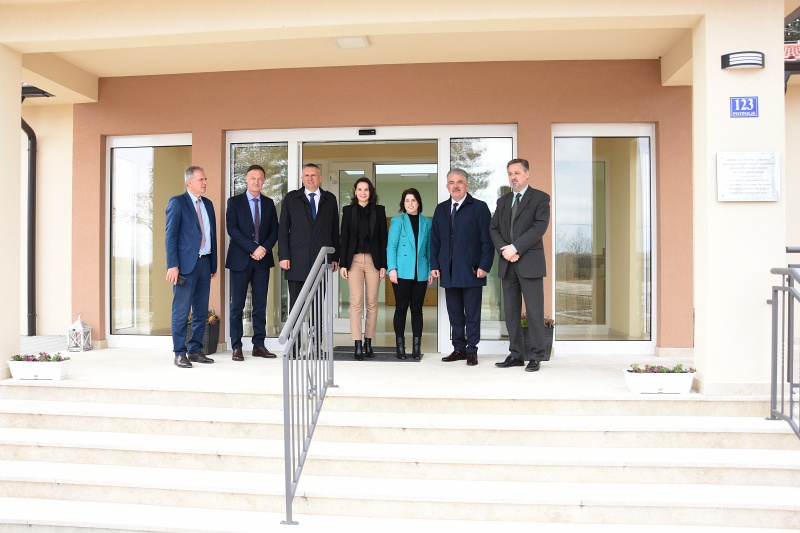 During a working visit to the Municipality of Čitluk, the Prime Minister of Herzegovina-Neretva County, Ph.D. Nevenko Herceg, together with the Minister of Health, Labor and Social Welfare of HNŽ, Ph.D. Goran Opsenica, HNŽ's Minister of Transport and Communications Stjepan Krasić and HNŽ's Minister of Agriculture, Forestry and Water Management Donko Jović visited the Education and Rehabilitation Center "Sveti Josip Radnik" in Potpolje, a public institution for care, professional and jobs for the needs of children, young people and adults with difficulties in the development of the Municipality of Čitluk and the wider community.
Matea Brekalo, acting the director of the Center introduced the delegation to its work, noting that the equipment of the sensory room and the cabinet for the speech therapist, educational-rehabilitation therapist and physiotherapist had recently been completed.
An educated person will work with the little ones in this comfortable and equipped space, and in order to keep the children safe, the building is protected by wall coverings, but also decorated with colorful colors so that the rehabilitation environment encourages learning through play, movement and space exploration . Children with autism spectrum disorders, cerebral palsy, ADHD, children with speech and language difficulties, learning difficulties, children with vision and hearing impairments and children with intellectual disabilities are most often included in the sensory room," explained Brekalo, expressing her gratitude. To the government, which will co-finance the Center's work.
"The government continuously supports numerous associations and institutions from HNŽ that implement various projects related to social welfare. "Having seen the efforts and hard work of the people brought together by the project of building and equipping such a Center that takes care of children and young people with certain difficulties, we gladly accepted the co-financing of its work," said President Herceg.
Minister Opsenica said that the Ministry, which he heads, monitors and supports projects related to care for socially threatened and vulnerable categories of citizens, especially children with special needs, with extreme attention. In this context, he emphasized that the Ministry gave its consent to the Statute of the Center, which, among other things, advocates for quality upbringing and education of children, young people and adults with developmental difficulties through individual and group rehabilitation incentive measures, as well as their daily care and job training.